manufacturing-solutions-banner
manufacturing-solutions-sterile
Sterile solutions (small molecules)
Combining the focus on parenteral with the expertise of an established pharmaceutical leader, the contract manufacturing business is agile and flexible in its service to companies outsourcing the development and manufacture of added value injectable drugs.
manufacturing-solutions-1
Parenteral solutions
We specialize in small molecule intravenous solutions and offer high-quality pharmaceutical development and product manufacturing.
Grifols Partnership offers any kind of sterile solution (SVP & LVP) for injection for human or veterinary pharmaceutics, including products from our portfolio and products developed according to your needs.
SVP: small volume parenteral; LVP: large volume parenteral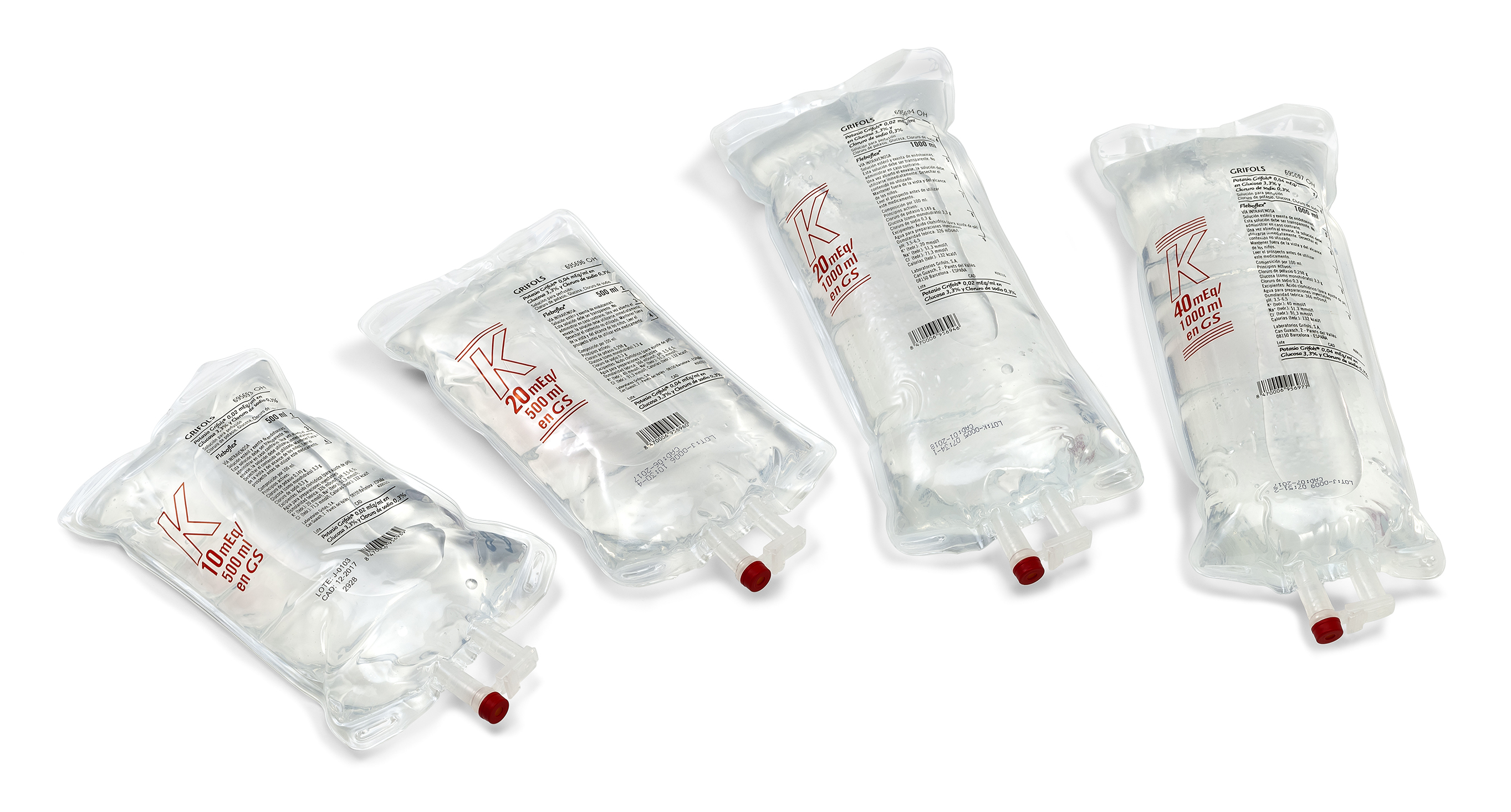 manufacturing-solutions-5
Delivery systems
Grifols Partnership offers you a wide range of containers made from a variety of materials in different sizes to meet every need.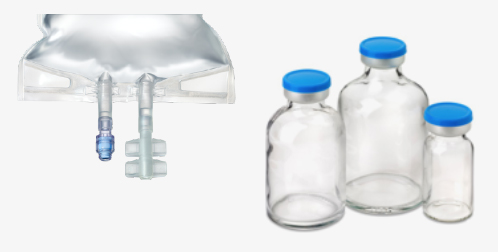 Premixed in customized IV PP bags
Polypropylene flexible bags are the container of choice for packaging premixed parenteral drugs; they are simple and easy to use.
One of the main advantages of this type of packaging is that no air exchange is required and the bag collapses allowing the solution to flow down easily.
Different options are also available in terms of colors, size, graphics and overwrapping to clearly differentiate strengths or types of solution.
Choose between one port, two ports, twist-off or luer valve.
We can support you in developing customized containers according to your specifications.
manufacturing-solutions-6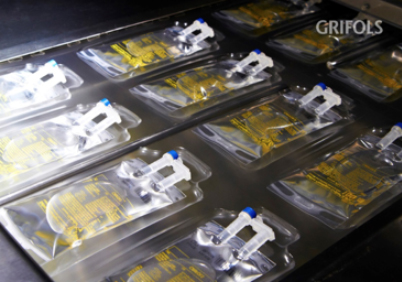 Fleboflex® PP bags
Fleboflex® PP bag: Grifols proprietary connector. Excellent drug compatibility, flexible, polypropylene and transparent material.
Available sizes: 50 ml, 100 ml, 250 ml, 500 ml and 1000 ml.
Form-Fill-Seal manufacturing process
manufacturing-solutions-7
Fleboflex® Luer PP
bags – needle

free

Polypropylene bag, flexible and transparent, specially designed for preparation, reconstitution and drug administration without the need of using needles. This access port has been specially designed with a safety valve that lets you connect a syringe to add or withdraw solution. The infusion port is a standard twist-off valve.

Available sizes: 50 ml, 100 ml, 250 ml, 500 ml, 1000 ml.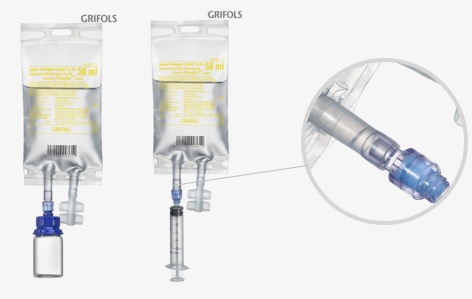 manufacturing-solutions-8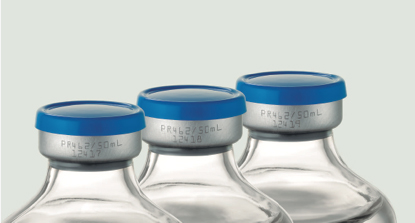 Small Volume Glass vials
Laboratorios Grifols has a fully automated filling line for 2.5 ml to 50 ml and intermediate volumes designed in accordance with strict GMP requirements as well as the standards required by the FDA and the EMA.
Technical Features
Washing process with WFI80
Depyrogenation ensuring at least a 3 log reduction in endotoxin levels.
Filling through peristaltic pump with four vial fillers to achieve highly accurate dosing and precise timing.
Vials are laser-etched on the cap, or on the glass vial

Provides a unique identification number for every single vial
Ensures traceability
Permits flexibility in shipping without a label
Prevents counterfeiting

Automatic machine inspection of printing
Terminal sterilization
Compatible with different types of glass vials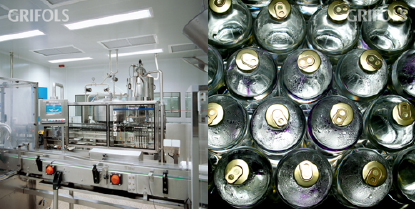 Large Volume Glass vials
Glass vial (Type I and Type II specifications)
Naturally inert material, totally transparent and recyclable
100 ml, 250 ml, and 500 ml.
manufacturing-solutions-9
Technological capabilities
Two FDA-approved sites with the ability to handle pharmaceutical products and medical devices offering different technological capabilities.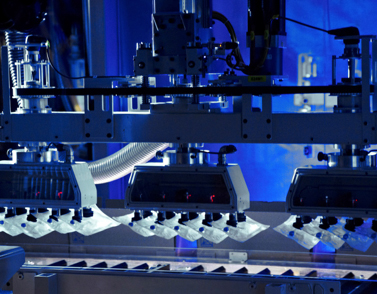 manufacturing-solutions-10
Aqueous LVP and SVP
Grifols offers you parenteral preparations containing one or more active ingredients intended for administration by injection or infusion packaged in different containers.
manufacturing-solutions-11
Form-Fill-Seal

(FFS)

Grifols Partnership also develops and manufactures its own flexible bags on site to obtain a perfect match between the drug and its container. This vertical integration model enables us to control the entire process from the very start, and ensure the highest standards of quality to our customers.

Four Form-Fill-Seal lines, fully automated, have been designed to manufacture 50 ml, 100 ml, 250 ml, 500 ml, and 1000 ml, PP bags, and can be adapted to manufacture special sizes depending on customer specifications.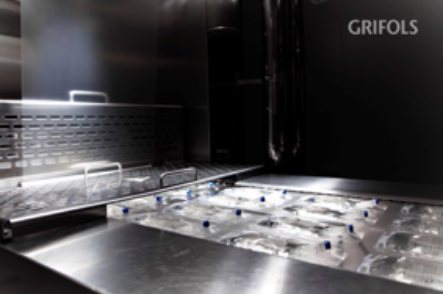 manufacturing-solutions-12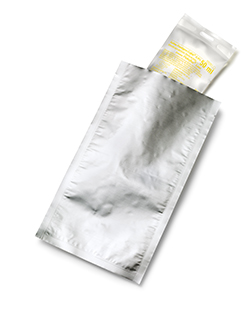 Manufacture and filling of oxygen and light sensitive products
Grifols offers you parenteral preparations containing one or more active ingredients, intended for administration by injection, or infusion packaged in different opaque materials.
manufacturing-solutions-13
Terminal sterilization
Manufacturing capabilities are designed to fill finish sterile solutions with terminal sterilization in high-capacity autoclaves (water and steam).