We focus on quality and safety
At Grifols, we work hard to ensure maximum levels of quality in our production processes. We continuously strive to improve our quality systems, which has earned us the highest levels of accreditation and certifications.
In 2007, Grifols obtained authorization from the Spanish Agency of Medicines and Medical Devices (AEMPS) for the parametric release of its parenteral solutions in glass and flexible containers from the manufacturing plants in Spain, making the company one of the first in Europe to obtain this authorization.
our-diference-2a-parametric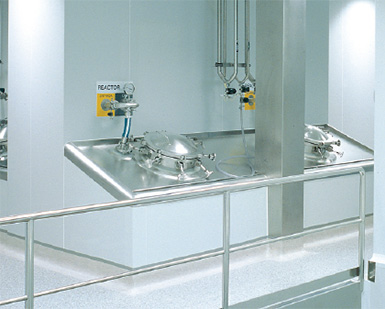 Parametric release for sterility
Parametric release is a guarantee that the product has attained the desired quality and is based on the information collected during the manufacturing process, in compliance with the specific demands of Good Manufacturing Practices. This recognition was received thanks to the rigorous quality system at Laboratorios Grifols which guarantees the sterility of the product without the need to carry out additional sterility tests.
A highly specialized team and automated production process with cutting-edge technology for parenteral solutions means that we are able to offer a product with very high levels of quality.
Safety is more than just a regulatory requirement; at Grifols it's a philosophy that goes hand-in-hand with quality. Safety and quality apply not only to our products, but to our internal manufacturing, communication and operational processes.
our-diference-2b-parametric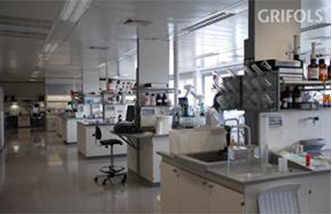 Greater quality control with vertical integration
Grifols Partnership also develops and manufactures its own flexible bags on site to obtain a perfect match between the drug and its container. This vertical integration model enables us to control the entire process from the very start, and ensure the highest standards of quality to our customers.
Grifols has never experienced any quality problems due to virus contamination, and this track record of performance has placed the company in a prestigious position in the plasma-derived proteins market.
This commitment to quality and our culture of continuously striving for the highest quality levels are also applied across all the company´s activities.
our-diference-4-expertise
Expertise
Experts in formulation, filling, terminal sterilization, labelling and packaging in flexible container.
Experts in development and contract manufacturing (CDMO), with long-standing satisfied customers.
Grifols is a leader in the Spanish pharmaceutical market for Large Volume Parenteral solutions. The company has over 75 years of experience in manufacturing parenteral solutions, diluents, clinical nutrition and medical devices.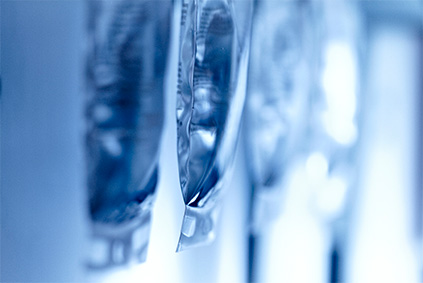 our-diference-5-facilities
FDA- and GMP- approved facilities
Located in Spain, our manufacturing facilities have the capacity to supply solutions for intravenous therapy and bags for blood storage and collection.
our-difference-facilities images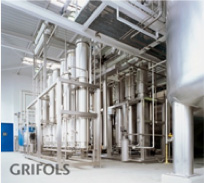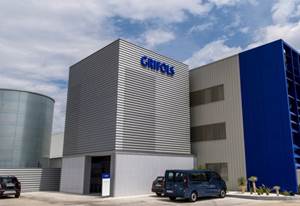 Team
The history of Grifols is the history of a team which has grown as new members have joined our project.
Some contributions to the team are particularly decisive, but the final outcome is the result of the cooperation and teamwork of everyone at Grifols.
We are proud to be part of a company where decision-making is based on honesty and where we fully identify with the company. Grifols reputation in society and in the industry is a reflection of the sense of responsibility which is central to our decisions.
our-diference-9-team-images

Oriol Prat
DIRECTOR CONTRACT MANUFACTURING & IV SOLUTIONS
Marga Viñes
BUSINESS DEVELOPMENT MANAGER CONTRACT MANUFACTURING

Estela Llorens
DIRECTOR OF RESEARCH AND DEVELOPMENT

Marta Serra
TECHNICAL DIRECTOR LABORATORIOS GRIFOLS

Ricardo Bernabé
DIRECTOR OF MANUFACTURING MURCIA FACILITY

Oriol Argemí
MANAGING DIRECTOR LABORATORIOS GRIFOLS

Lluc Mercadé
DIRECTOR OF MANUFACTURING FACILITY IN PARETS DEL VALLÉS

Àngels Romero
DIRECTOR OF FINANCE LABORATORIOS GRIFOLS

Carla Mössinger
BUSINESS DEVELOPMENT MANAGER CONTRACT MANUFACTURING
our-diference-10-partnership-video
Grifols Partnership
Grifols Partnership is a business-to-business contract development and manufacturing platform (CDMO) for sterile solutions for the pharmaceutical industry. Grifols Partnership undertakes all commitments with great enthusiasm; our objective is that your product reaches the market on time, and in optimum conditions.